Login
Licitatii active
Licitatii terminate
Contact
Bibi Stefanescu
004(0)723345543
RIMINI WINTER RACE - Italy / Position 21-40 (Closing: TUESDAY, 23.03.21, 21:00 - GMT+2)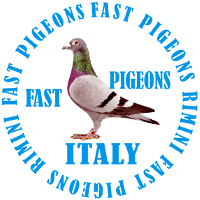 Anunt foarte important!
- Porumbeii se afla in Italia, in localitatea Rimini.
- Transportul se va realiza numai dupa efectuarea si confirmarea platii.
- Pentru zona Balcanica: primul transport catre Romania va fi organizat duminica, 28.03.2021. Daca doriti ca porumbeii licitati sa fie inclusi in acest transport, plata trebuie efectuata pana vineri, 26.03.2021!
Date bancare:
FAST PIGEONS RIMINI
IBAN: IT43 P070 9024 2110 2301 0185 395
BIC: ICRAITRRE20
Confirmare plati:
email: ervinlaro@alice.it
whatsapp: +39 340 810 0605
Very important notice!
- The pigeons are in Italy, in Rimini.
- The transport will be made only after payment and its confirmation.
- For the Balkan area: the first transport to Romania will be organized on Sunday, 28.03.2021. If you want the auctioned pigeons to be included in this transport, payment must be made by Friday, March 26, 2021!
Bank details:
IBAN: IT43 P070 9024 2110 2301 0185 395
Payment confirmation:
email: ervinlaro@alice.it
whatsapp: +39 340 810 0605